Benefits
How can Aspire OT's Just for OT Coaching and Consulting help you?
Accelerate your clinical
practice
Do you:
Feel burned out or frustrated that your value is not fully recognized?
Feel too intimidated to develop new programming?
Want to improve your OT/OTA relationship?

Develop leadership and advocacy strategies
Would you like to:
Begin your leadership journey?
Learn how to better promote your services in your current setting?
Become more active in advocacy for the profession?
Build your management and administration skills
Are you:
Working in a new management or administrative role?
Hoping to transition to a management or administrative role?
Facing challenges in your management role and not sure how to navigate them?
Share your expertise with other practitioners
Have you often thought that it would be great to:
Develop a presentation for your organization or association?
Become an instructor for occupational therapy courses?
Write an article about your area of expertise?
If you answered yes to any of these questions, Aspire OT's Just for OT Coaching and Consulting is your solution!
Because we are BETTER TOGETHER!
What People Are Saying
"Kim has as wealth of knowledge and can explain things in a way that is easily understood. I am fortunate to benefited from her mentorship in the areas of occupational therapy, employee engagement, management, and leadership development. She would add value to any organization or therapist."
-Jamar, MS, OTR/L, Regional Rehab Director
""Niccole coached me through creating a powerpoint presentation from scratch for the first time, and her input was invaluable. From wording and layout to the best way to verbally present the information and so much in between, she was an integral part of the success of my presentation. Her feedback was always presented in an encouraging and timely manner. She helped me to grow as a practitioner in ways I never would have thought possible. I have noticed that since her coaching I have improved in multiple areas, including the ability to discern the best ways to present verbal and written information within and outside the OT field. I would definitely seek out coaching from Niccole again in the future. If I could say one thing to advocate for having a coach like Niccole it would be this: it will help you grow in all aspects of your career as an OT practitioner and may help you to discover things about yourself and your abilities that may surprise you! "
-Abbye, COTA/L

"I have been meeting with Kim for nearly a year now, first as an OTD student and now as a new graduate. The first things you notice about Kim are her authentic approach to building rapport and how genuinely she wants to help. Not only is she eager to share her knowledge, experience, and insight, but she is willing to share the mistakes she made along the way to help you to navigate around them more smoothly. What has impressed me most about working with Kim is her natural ability to perceive and respond to needs as they arise. She takes the same creative, client centered approach that you would expect from the best occupation therapy practitioner and brings that same level of investment and energy into the mentor-mentee relationship. Her passion for the occupational therapy profession is infectious and highly motivating. With Kim's guidance and support, I have built confidence as a student/new practitioner, navigated complex fieldwork situations, and learned to approach clinical situations with a more holistic perspective."
Thank you for your interest!
Regrettably, owing to the current demand, we are unable to accommodate new coaching clients at this time.

However, if you would like us to reach out to you once our availability opens up, please feel free to send us an email at [email protected]. Thank you for understanding!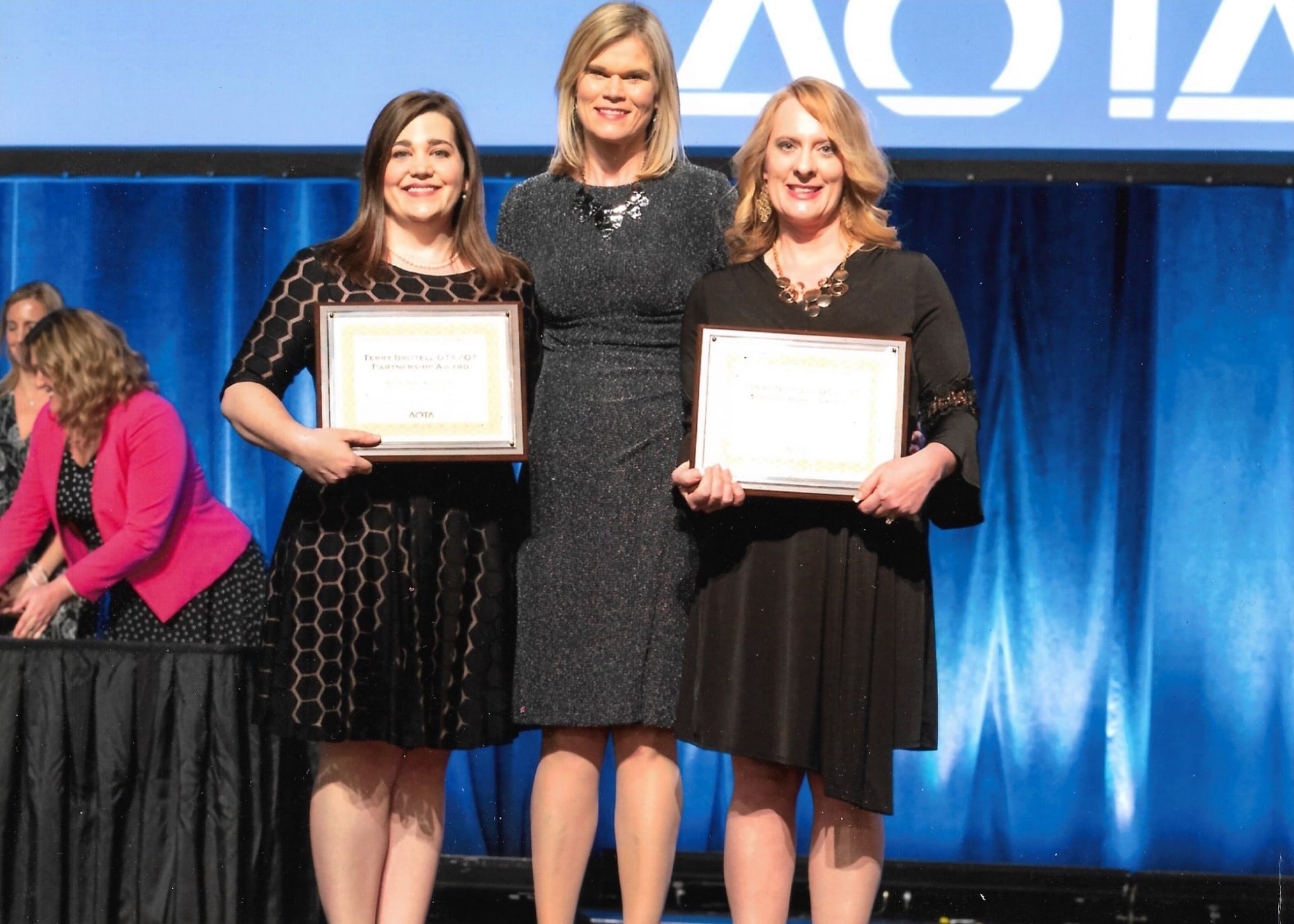 As any successful OT or OTA will tell you, your education doesn't end when you earn your degree. That's what makes the programs offered by Aspire OT so successful. Our occupational therapy coaching will improve the lives of your clients and make your practice a better place.
Contact us
today for more information and to learn more about everything we have to offer.
the aspire ot difference
Founders Niccole and Kim have combined experience and success in:
Program and Outcomes Development
Department, Multi-Department, Regional, and Corporate Operations management
Advocacy at organizational, local, state, and national level
Publications: Authored multiple articles for publications including OT Practice and the development of an official document for the American Occupational Therapy Association
Creating and presenting continuing education at the organizational, state, national level in person and on-line
Managing and meeting productivity standards
Entrepreneurship
Development of a nationally-recognized, collaborative OT/OTA relationship
Mentorship for new practitioners, experienced practitioners, and new managers
Keep in Touch
Sign up to receive news and updates about our courses!